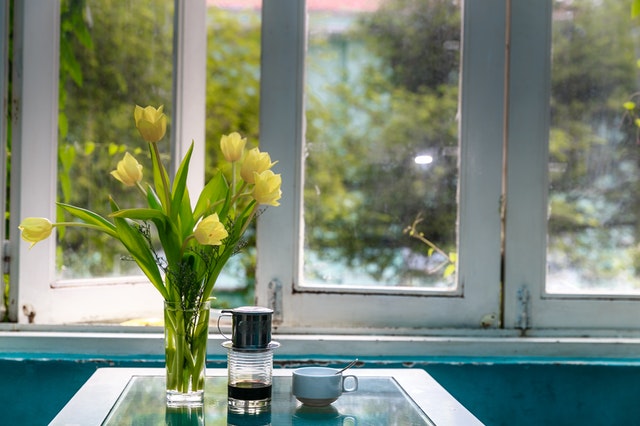 When thinking about kitchen remodeling, one way to refresh the décor is to consider the windows and how they affect the look of a room. The kitchen provides more opportunities for exciting, stylish window coverings without the privacy concerns of the bedroom, bath or living room. If you're exploring window treatments, think about the window's size and placement, styles, and colors of curtains and the kind of sunlight that shines through the window.
A window's size is essential when approaching potential window coverings. A small window can be overwhelmed by oversized curtains or heavy drapes, while a large window needs a treatment that is proportionate to its size that still allows for cascading light. The color and style of window covers and hardware should compliment all other elements in the room, such as kitchen tile, countertops, and wall color.
Window covers come in a variety of styles that can provide the kind of atmosphere you want. If your kitchen offers a scenic view, then take advantage of it. If light pounds through the window, use curtains to control the glare. Explore some of the following common kitchen drapery styles:
Café Curtain- a single curtain that hangs across the center of the window, only covering the bottom half; sometimes paired with a valance.
Cornice- a wood construction, sometimes upholstered, at the top of a window from which curtains hang down; offers an elegant look.
Valance- a short fabric curtain that can be hung alone or as a topper to other drapery; styles include pleated, bloused, cascades, shirred and swags.
Tiers- a pair of curtains that hang across the center of the window, only covering the bottom half; mainly designed for kitchen use and usually offered in packages with matching valances.
Sheer- a translucent fabric that is very light and airy; sometimes used with heavier drapery.
Consider how a window's curtains fit with the style of your kitchen. For example, a smaller room with dark, wood kitchen cabinets might seem like a cave with thick, dark curtains. By considering all the elements within the room, your windows can provide the kind of light and radiance that makes a kitchen comfortable, stylish and functional.
Here you find more: